Buffalo Medical Group Partners with Local Businesses to Support the Buffalo 5/14 Survivors Fund
By Jeffrey Johns | June 10 2022 | Uncategorized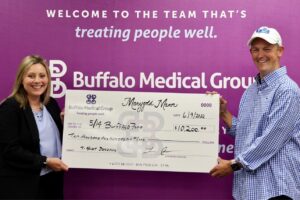 The events of May 14, 2022 tragically changed Buffalo forever. One thing that will never change, is that the Buffalo community comes together in difficult times. A lifelong Buffalonian, Jeremy Urbanski of the Marygold Manor, felt the need to do something for the Buffalo Community. Working with a high school friend and fellow businessman Tony Scioli of  My Tomato Pie, Urbanski helped to develop an image that represents Buffalo hometown pride.
Scioli had recently purchased a t-shirt printer and the pair decided to print the custom shirt, with proceeds benefitting the impacted community. A Facebook post of the resulting shirt came to the attention of the team at Buffalo Medical Group and a community focused partnership was quickly formed.
Buffalo Medical Group agreed to purchase one of custom designed shirts, for each of it's nearly 1000 employees, with the proceeds going directly to the Buffalo 5/14 Survivors Fund. In addition BMG employees initiated a special dress down fundraiser, with all of the proceeds being added to the donation to the fund.
"The Buffalo Medical Group team is a compassionate, caring group of healthcare professionals every day," said Lisa Schulze, chief operating officer, Buffalo Medical Group. "Our team wanted to do something to help those impacted by this awful event and this partnership with these community minded businesses was the perfect opportunity."
"As a lifelong resident of Buffalo, you can't help but have immense pride in our city and feel love and gratitude for our neighbors," said Urbanski. "This is just another example of how we live up to the title, the City of Good Neighbors."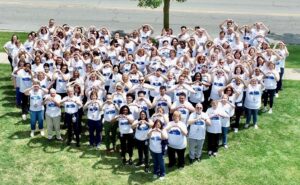 With the net proceeds from the t-shirt purchase and the additional BMG dress down funds the donation from Marigold Manor and Buffalo Medical Group will total $10,200.
Community members interested in purchasing one of the custom designed t-shirt to benefit the Buffalo 5/14 Survivors Fund, can contact; Linda D'Agostino at 716-630-2524.